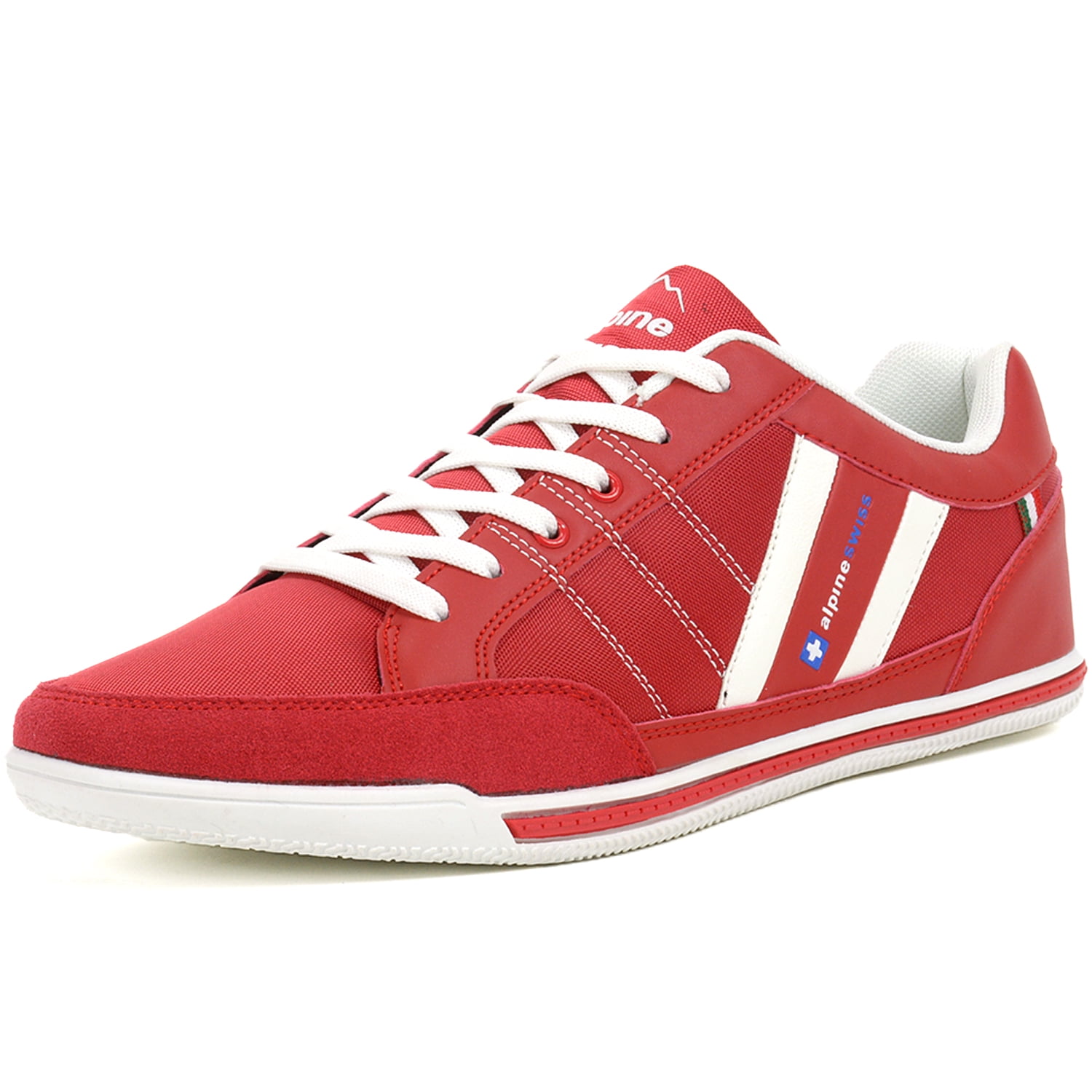 Alpine Swiss Stefan Mens Retro Fashion Sneakers Tennis Shoes Casual Athletic New
$29.99
In stock at Walmart
on 9-14-2017.
BUY NOW
Product Description
FREE SHIPPING
Men's Stefan Fashion Sneakers By Alpine SwissThese classic retro style sneakers will fit with any casual look all year round. Inner padding will keep your feet comfortable while remaining fashionable. Many color options available to fit your personal style.  Product Features:
Comes in Full Sizes Only- Half Sizes Please Round Up
Heel Measures 3/4\", Toe Measures 1/2\"
Fashionable Lace-Up Low-Top Sneaker 

Padded Collar, Tongue and Insole For Comfort 

Stylish Nylon Upper with Faux Leather and Genuine Suede Trim

Tonal Topstitching, Contrast Side Stripe Detail

Rubber Outsole 

MSRP $75.00
Alpine Swiss donates 250 meals every day to hungry children in the U.S. and around the world through our partnership with Childrens Hunger Fund. These meals are hand delivered in a Food Pack, which will contain enough food to feed a family of 4-5 for a week to the homes of the needy by trained volunteers in their community, establishing relationships that foster genuine care. Your purchase fuels this effort! Thank you!
What wearers are saying
These are really great looking shoes and the quality seems to be up there as well. I've worn these for a couple of weeks and I'm still breaking them in. They're stiff at first but like most new shoes, the more you wear them the more flexible and comfortable they get. I've already gotten compliments from friends on their looks. They (and I) like the retro look to the shoe which is mostly nylon with leather accents around the heal and toe of the shoe. I also like the branding of the shoe.As far as fit/feel - I would caution that they run a bit small. So order a size up (or half size). When I ordered mine they didnt have half sizes. I wear a 9.5 mens and they only offered 9 or 10. so I chose 10 and I'm glad I did. The toe box has just the right amount of room and is comfortable without squeezing. Although, being a size 10 and me being used to wearing a 9.5 the toe is a tiny bit longer but nothing to affect the comfort.As far as the comfort goes, this is my main gripe: the insoles are flat with no arch support. If you're fine with that then great. But for me I need some arch support so I bought some insoles to put in them and now they fit and feel much better. Adding insoles makes the shoe a tad bit tighter but wearing them more regularly fixes that.So, overall I gave these 4 stars taking one star off for the initial comfort of the shoe. Yes they are lightweight and the quality is great, but having to add insoles to help with the comfort and fit is a bit of minor disappointment at least for me. However, I think the positives outweigh the negatives and I would recommend these shoes.
Features
Comes in Full Sizes Only - Half Sizes Please Round Up
Fashionable Lace-Up Low-Top Sneaker
1/2 inch Toe, 3/4 inch Heel
---